The photographs hanging on the walls of Vice President for Athletics Scott Leykam's office change.
The shot of men's cross country head coach Rob Connor standing on a podium in 2014 will soon be replaced with a similar but more recent photo of the team winning second place in the 2017 NCAA Championship. "That was Rob's big moment," Leykam said.
The picture of Pilot rowers muscling on the Willamette River will change into a shot of the new Vancouver Lake boathouse. And Leykam soon will hang a photo of the men's basketball team facing off against North Carolina in November's PK80 tournament.
Every snapshot is a milestone, a point of pride, for Leykam, hired in 2012 after a four-year stint working for the West Coast Conference (WCC). He has administered more campus expansion in five years than the University of Portland has seen in decades: the Beauchamp Recreation Center, a newly renovated Joe Etzel Baseball Field, the new rowing boathouse and an housing three fields, a tennis center and a full track.
Leykam looks like he could have been a mob boss in another life, with his goatee peppered grey, sitting back in a leather chair, one leg draped across the other, wearing a version of what he wears every day — a Pilot purple quarter-zip and a pair of black slacks. But his demeanor more resembles your friendly neighbor, barbecuing in the backyard or coaching his son's little league team (which he does, by the way). A life-size golden basketball stands in the center of his large office, a relic from 2014 when Cassandra Brown  against Gonzaga guard Kevin Pangos.
"She was the second or third alternate," Leykam said. "She wasn't supposed to be in the three-point shoot-out.  But there was a young woman who was sick. There was another young woman who backed out, and she literally got the call to be in the shoot-out the day before. So we pulled her out of class, raced her to the airport and she flew to Indianapolis, and she won."A photo of Brown making the shot also hangs on Leykam's wall. That one's there to stay, he says. It shows something more important to Leykam than buildings and deals with Nike: student experience, athlete growth and pride.
The end of this school year will mark six years since Leykam took over the athletic director role from Larry Williams, who resigned to become athletic director at Marquette University.Right as he stepped on The Bluff, Leykam signed an eight-year agreement with Nike. In the last two years, he's brought on former Trail Blazer Terry Porter as head men's basketball coach, long-time coach and top recruiter Nick Carlin-Voigt as head coach of men's soccer, and just recently, Olympic medalist Michelle French as head coach of women's soccer. Sports columnist, TV commentator and radio host John Canzano (Oregonian, KGW, KXL) named Leykam on his list of the  in Oregon sports twice, ranking 25th in 2017 and 24th in 2016.

"Scott gets consideration for the list, in part, because he's the sitting athletic director at one of the biggest athletic departments in the state," Canzano said in an email to The Beacon.
"But he sticks on the list because I see the work he's doing and I love that he's pushing the vision at UP to a higher place. I don't think he's comfortable simply churning in one place and I like that."

But even with a string of successes and a massive building project in the works, Leykam says his job is always in flux.

As the business shifts into a multi-billion-dollar industry, Leykam says that a career in college athletics won't keep you in one place for long. He says the average tenure for a college athletic director is around five years. And of the other athletic directors hired when Leykam was, he says about half are already out the door.

"The reality is you can never win enough in this job," Leykam says. "You can't keep everybody happy. I'm probably my own worst critic, but to see the individual accomplishments of the student athletes every year, that's the coolest part."

The 2,000-pound gorilla  

Leykam was once the assistant sports information director at Stanford University, and he says he couldn't imagine working somewhere that doesn't place an emphasis on academics.  Since Leykam came to UP, the number of academic advisors for athletes is up from one to four. All freshmen are required to attend summer classes, which was a "game changer," he says.
"Alison Knoedler was my academic advisor for athletics, and she was someone that I personally felt comfortable talking to about what it's like to be an athlete and the stresses that come along with that," said alumna and former volleyball player Katie Sullivan ('17). "All of the staff in the Athletics Department care about the athletes and want them to succeed in all aspects of their college experience.""When you're recruiting student-athletes anywhere, you want to be able to offer the best experience you can," Leykam said. "That is academically, that is campus life and it's athletically. I wouldn't say we're all the way there, but we've made a lot of good progress."

Leykam set up student-athlete surveys that ask Pilots to share ways they think their experience could be improved. As a result, Athletics made significant changes to the equipment and structure of athlete weight rooms. Athletes also complained that they didn't have time to eat between practice and classes. Leykam brought in a nutritionist and worked with coaches to give students more time to make it to The Commons or The Pilot House.

Athlete experience is important, Leykam says, but so is integrating Athletics smoothly into campus culture.
"Athletes can't be the 2,000-pound gorilla in the room," Leykam said. "We have to realize, our staff has to realize, our coaches have to realize, that we're one business unit on campus. We're no different than housing, Residence Life, the bookstore or academic units."Leykam wants campus to see Athletics as a gathering space, a source of weekend entertainment for students. Looking at ticket sales, he's achieved this goal in some sports, but attendance is spotty in others.

Volleyball and baseball ticket sales are higher than they've ever been, Leykam says. And winning the WCC Title in 2016 has boosted the campus' enthusiasm for men's soccer. On a good night during soccer season, Leykam says there are at least 2,000 people in the stands, more than half the student body. And the basketball program had its best year of revenue in its history last year, which Leykam credits to the hire of Porter and support from Residence Life.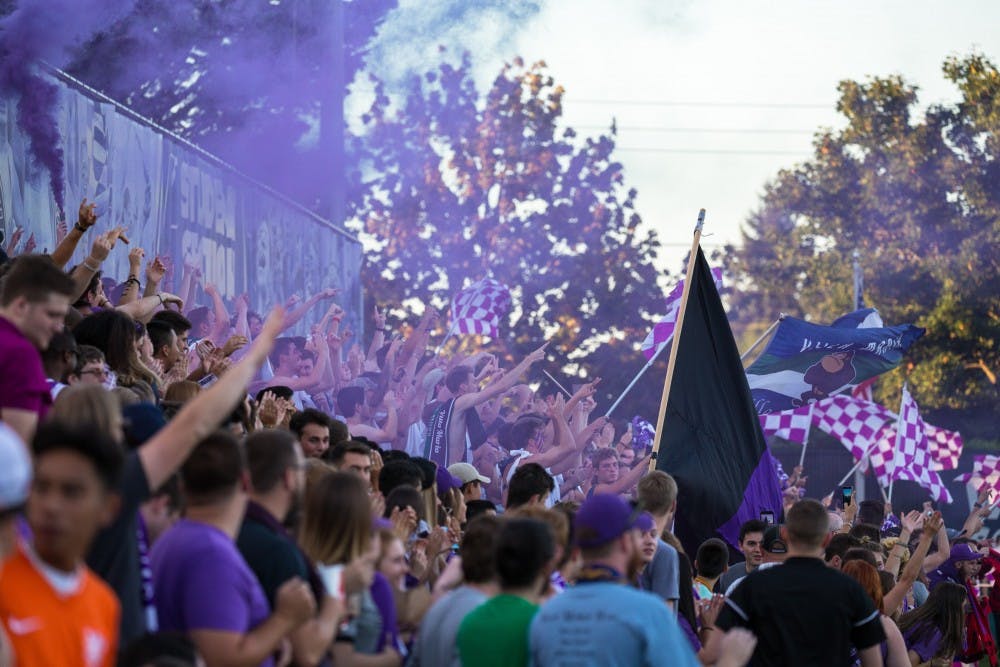 But women's soccer attendance has gone down significantly in the last few years.
"We have some work to do in soccer," Leykam says. "The effect of the Portland Thorns () on our women's team ticket holders has been real and profound, and I'm not surprised."
Athletics hopes to boost ticket sales by bringing in an Atlanta-based consulting and ticketing company called . Aspire set up a  which manages new sales, keeps up with ticket holder retention and solicits donations to the Pilots.
"We have to get out in the community," Leykam said. "We can sit here and wait for people to come to us or we could go to them."
Thinking (building) big
Leykam says funding for the Athletics Department has almost tripled in fundraising dollars this year over last year, and the department is up 30 percent in donors as well, though "we're still far off from the rest of the WCC."
The money is literally changing the landscape at UP. Leykam has been working on big building projects since he settled into his office six years ago. If a student walked into the room today, they'd likely see a large blueprint leaning against his wall, displaying a track set to be built on River Campus in 2019. Samples of the red, synthetic tartan are sprawled out on his desk.
"Of course, I'd rather them be purple," he says.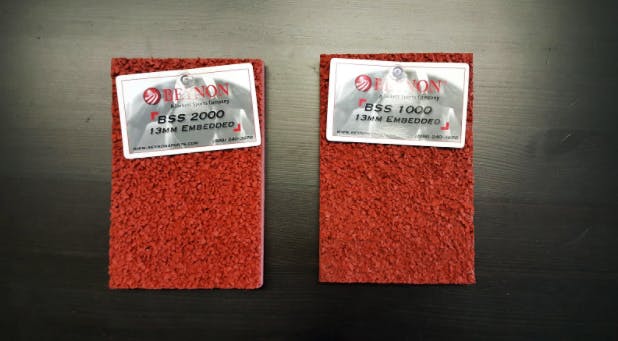 In early February, Leykam announced on  that the University had officially received permits to build two soccer fields on River Campus, and construction officially began that month. He said he anticipates that both the grass and turf fields should be completed by Labor Day.
Leykam said the University also gained approval from the Willamette River Trustees to begin construction on a boating dock that will accompany a new boathouse for the rowing team. That project should be completed within the window of July 1 and Oct. 1, Leykam said.
"I feel like when I got here in 2012, the river property was two years away, and then in 2014, it was still two years away," Leykam said. "To see that progress, it's a big thing."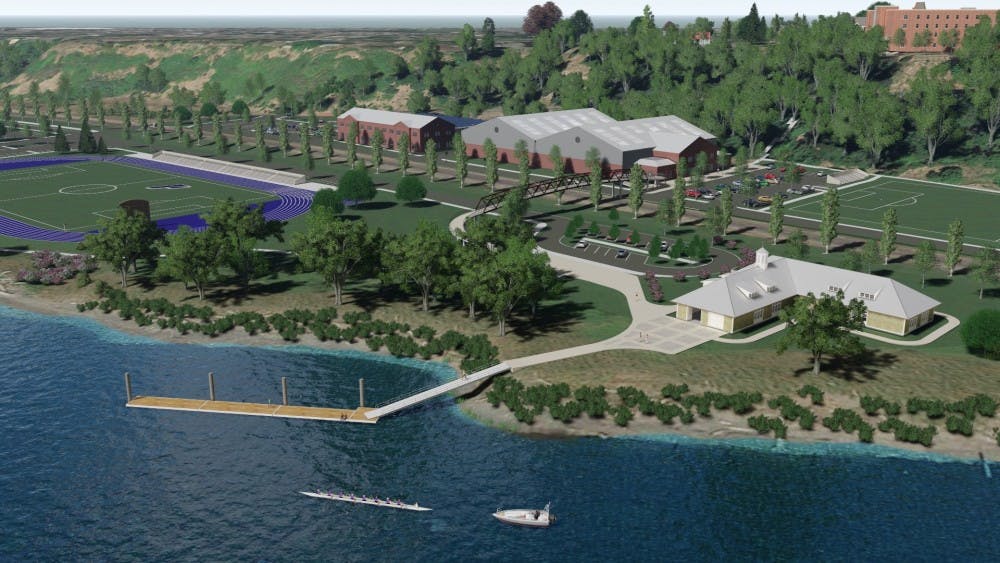 The project will directly affect 11 of UP's 16 varsity sports, and will provide much-needed space for sports that often get overlooked.
"We do not have a track on our campus, which is amazing to me considering that our cross country program is top 15 (in the U.S), and the track program has been top 25," Leykam said.
The Beauchamp Recreation Center was just a blueprint when Leykam began at UP. "That's been on the table forever," he says.
Initially, the plan was to put the center where the baseball field is now, and move the baseball field to River Campus. But Leykam had the idea to move it into the lot in front of Fields and Schoenfeldt Hall.
On top of improving student life, the recreation center generates revenue as a practice space for visiting NBA teams.
The Joe Etzel baseball field was also a pet project. Leykam supervised renovations of the field itself, the lighting, the scoreboard, the lounge and the hitting facility. He's now working to complete funding to finish construction on a new grandstand.
Aside from physical building, Leykam has brought the Pilots into a digital world.
"Scott has done a great job telling our story digitally," men's cross country coach Rob Conner said. "What UP is doing with video is at the front of the industry. It is really exciting."
In the last academic year at UP, the Pilots Sports Network (PSN) — an in-house video department that consists of staffers Riley Clark, James Vega and a crew of 12 students in a centralized control room in the Chiles Center — , including live game coverage and the interview series . Both air on 
Since its conception in 2015, PSN has been nominated for 
"We wanted to be leaders in the video era of intercollegiate athletics and I think this recognition validates much of what we already knew," Leykam said in a 2016 news release. "Our video team is doing award-winning work and really setting the bar high for what is possible when it comes to in-house production for a school of our size."
The man in the purple zip-up
Last fall, Leykam, 44, wrote a story for the Lake Oswego Review… covering youth football.
"My wife was laughing at me," Leykam said. "My son plays eighth grade football and they needed someone to write the local community paper story for one of the games. I was probably way too into it, and way involved. I was keeping stats!"
The little blurb brought back fond memories for Leykam. After graduating from St. Mary's College in 1995, Leykam started his career as a sportswriter, working for a series of papers in the East Bay of the San Francisco Bay Area — Contra Costa Times (now the East Bay Times), the Antioch Daily Ledger and the Brentwood News.
"It's in the blood," he says. Which is true. His father was a New York City sportswriter before he moved to the public relations department for St. Mary's Athletic Department.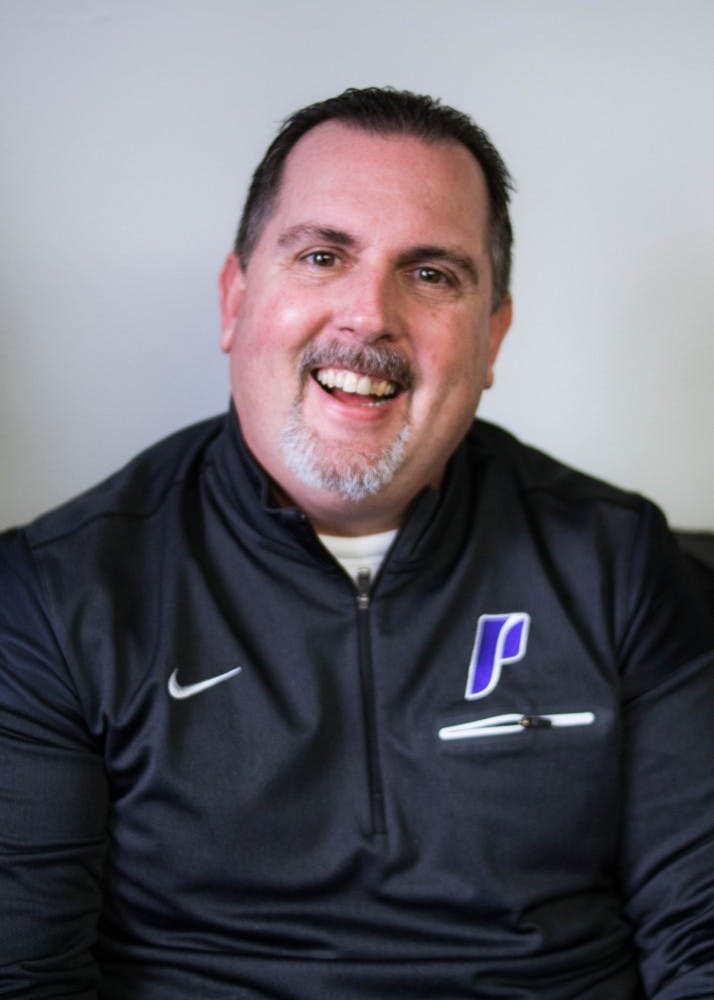 "That was sort of my thing when I was starting to get cut from high school teams and realized the athlete thing wasn't going to happen, that's when I dove into sports writing," Leykam said. "I was lucky enough to get a job."
After a few years of reporting, Leykam was offered a job working as an assistant sports information director at Stanford. Then he spent four years at the West Coast Conference (WCC) as senior associate commissioner, where he worked closely with ESPN, making him video-minded coming into UP.
Basketball players, pep band, and the dance team have Leykam to thank for their annual Las Vegas trip in March to the WCC championship. The championship used to move around each year, but Leykam helped organize the move to a permanent spot in Vegas' Orleans Arena.
"That was my baby, getting that running," Leykam said. "It's been good for our teams. It's been good for band. It's been good for dance. It's been a significant revenue producer. We're selling a lot more tickets then we did."
Leykam loves college football. He never missed a game when he worked at Stanford. And he still drives down to Corvallis with his son to watch the Beavers play. But he doesn't always want to come home and turn on the TV to a college game.
"I'm fine sitting in the front yard with the neighbors just watching the kids run around," he says. "Or hitting golf balls, just things that take your mind off this."
But sports seep into every part of his life. Leykam coaches little league and volunteers with the basketball team for his two sons, ages 10 and 13. He goes to his 6-year-old daughter's ballet classes, and he watches her distaste for sports altogether with bemusement.
He's glad. At least one child has escaped the itch.
"My sons are sports addicts," Leykam says. "They all went to , and my older son says he wants to be an athletic director. I'm trying to convince him to do other things, but he's still young and has time."
A Culture of Winning
Whether he's chatting up University President Fr. Mark Poorman in the front row of a basketball game, finishing up plans on a massive building project, or coaching little league, Leykam does everything with a certain gravitas. Even with the laid-back attitude and wardrobe, he looks like a cut-and-dry deal-cutter.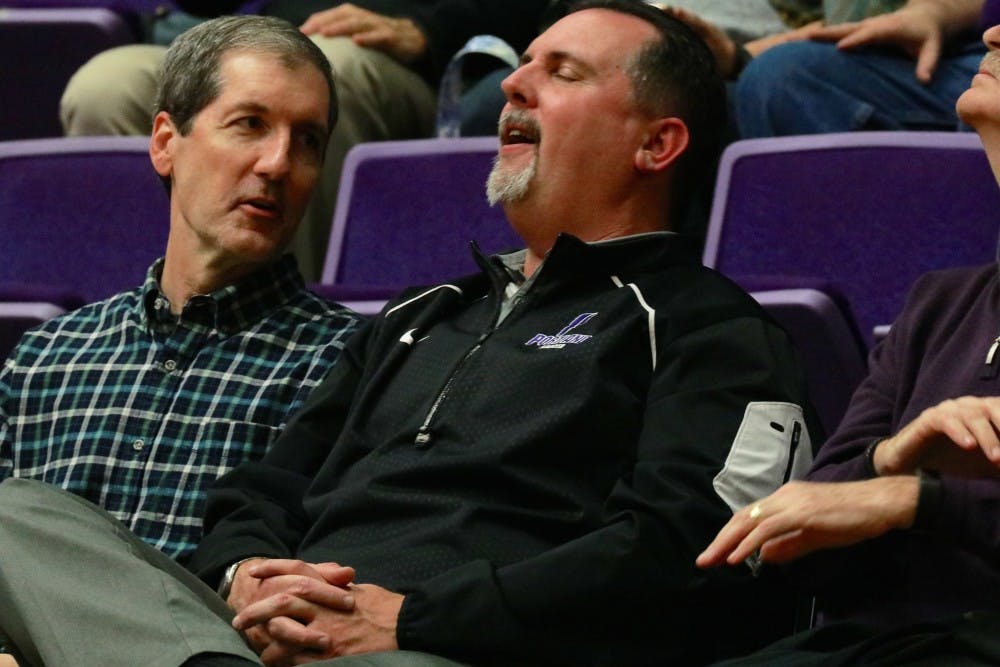 Being athletic director means controlling the nervous system of projects that take years to come to fruition and being the invisible hand in a system of controlled chaos. But one thing remains out of Leykam's grasp: winning.
There have been significant victories under Leykam. In 2016, the men's soccer team won its first WCC title since 2002. In 2017, the men's tennis team won its first WCC title ever, and Michail Pervolarakis earned the school's first WCC Player of the Year award for tennis. And the team is currently doing well, with an 8-7 overall and 3-2 in league play.
The men's cross country team placed second in the NCAA championship in 2017, and the women's team took fourth place. The volleyball team tied for third in the WCC championship in 2016, and senior Hannah Troutman earned 2017 All-WCC First Team honors.
The rowing team has also continued to improve since the team's inception in 2011. The team just had five of six boats finish first at the Husky Open in Seattle this past weekend and performed well against fellow WCC teams at the San Diego Crew Classic earlier this season, including a first-place finish on the second day.
However, under new leadership in the 2016-2017 season, men's basketball had a disappointing run, winning 11-22 of overall games. This year, the team completed another disappointing season, with an overall of 10-22 and a conference play of 4-14.
Once a powerhouse team, women's soccer has fallen off the map. The numbers have been dismal, with an overall of 5-13-1 this year.
"The legacy of this Athletics Department forever will be women's soccer," Leykam said. "But the business has changed. At that time, a lot of the big football schools weren't invested in women's athletics, and many of those schools you see in the top 10 in women's soccer now didn't have programs when we won the national title."
Leykam says winning is largely out of his control, but he can look at the trends. Portland has performed best in programs that larger schools neglect, like men's soccer and tennis.
"The opportunity to sneak in on the national landscape is men's olympic sports," Leykam said. "The first thing that big schools are going to scale back on are tennis, soccer, cross country. I mean, you look at men's soccer, and the big 10 doesn't have men's soccer. USC doesn't have men's soccer."
But the more brutal key to winning is Leykam's least favorite part of the job: hiring and firing. Reveno was a coworker of Leykam's when he worked at Stanford. The former men's basketball coach welcomed Leykam warmly to The Bluff in 2012, likely making it even harder for Leykam to to let Reveno go in 2016.
Reveno was the fourth WCC coach fired that season.
"The recruiting process is so much different now, and it's controlling coaches' fate," Leykam said. "If a coach is struggling, it becomes harder to get those players and take the next step. Is it something that I'm proud of? No. It sticks with you for a long time because there are families involved. There's people involved, but at the end of the day, you're trying to be as competitive as you possibly can."
Reveno wasn't the only coach Leykam had to part ways with. Former head women's soccer coach Garrett Smith,  was let go earlier this year.
"They were good people, and we've never parted ways with somebody where we thought that they didn't fit the character of the university," Leykam said. "But at the end of the day, we're here to do two things. We're here to develop young men and women, and we're here to win."
Hiring can be an even tougher challenge. Hiring Porter was met with general praise, but the former Trail Blazer has yet to deliver a winning season. In his 2016 list, Canzano said Leykam is "tied to Porter now. If the former Blazers guard wins, so does Leykam." But if Porter continues to lose, Canzano said Leykam's fate as athletic director will depend on how he handles the situation.
"I don't think Porter is ever going to win big at UP," Canzano said to The Beacon. "I'd love to be wrong about that. But if he doesn't win, Leykam will be judged on how soon he recognizes it and adjusts to minimize the damage."
Big moments ahead 
Leykam, as a member of University President Fr. Mark Poorman's Presidential Cabinet, sits up on stage in the Chiles Center during commencement ceremonies.
"I have my program out, and I'm marking all the student athletes as they come up," he said. "Seeing those faces come through one by one and knowing the personal story and seeing them go off to somewhere else, that's why you do the job."
There's a lot to lose sleep over when thinking about the future of college sports, Leykam says. The pressure to win above all else has grown stronger than it has ever been. But he's happy to be in a place where watching athletes walk across the Chiles stage in cap and gown is as important and rewarding as watching the men's soccer team thrust their WCC title trophy into the air on Merlo Field.
"There are times when I look at this business and say, 'Is this who we want to be or where we want to go?'" Leykam said. "We're blessed that we're in a league where schools are like-minded. Even as the business has changed around us, the institutional values are very similar."Five years from now, Leykam envisions a time in which every sport on campus is competing for the WCC title or postseason bid.

"We still have some programs that are a ways off from that, but we're a heck of a lot closer than we were a few years ago, which makes me feel good," he said.

He wants every team to have the opportunity to practice on UP grounds. He hopes to renovate the seating in Chiles. He's still deciding what to do with Pru Pitch, now that there are two soccer fields to be built on River Campus. These are four, five, six-year discussions, he says.

"In this job… you try to have patience."

But the discussions become buildings, and trophies, and eventually, photos on a wall.